Free Bitcoins: FreeBitcoin | BonusBitcoin
Coins Kaufen: Bitcoin.de | AnycoinDirekt | Coinbase | CoinMama (mit Kreditkarte) | Paxfull
Handelsplätze / Börsen: Bitcoin.de | KuCoin | Binance | BitMex | Bitpanda | eToro
Lending / Zinsen erhalten: Celsius Network | Coinlend (Bot)
Cloud Mining: Hashflare | Genesis Mining | IQ Mining
Nexo is one of the leading collateralized lending platforms in the world today. Although they started operations in 2018, they boast of about 50 cryptocurrencies on their platform and good security overall. Receiving 6-12% interest, depending on what kind of currency you're storing within Nexo, sounds really good. There are similar offerings on the market like BlockFi. What's the big difference?
Nexo's own token gives it an important differentiation factor towards other credit-lending services. Nexo very cleverly creates a utility for its Token on its platform to create value for the customer. This Nexo review will put that claim of good returns to the test and tell you all you need to know about Nexo.
What is Nexo?
The Nexo platform is an overdraft system based on blockchain and allows users to make crypto loans. Presently, the only way crypto owners can use their crypto assets is in buying and selling; Nexo offers another way to use these assets; by using them as loans. Nexo allows you to use your crypto assets as collateral. You can also exchange your crypto assets for fiat currencies and withdraw them to your bank account. The interesting thing is you still have full access to the value of your crypto coin while having immediate access to cash.
Credissimo brought about the Nexo initiative. Credissimo is a FinTech Group founded in 2007; the group provides their customers instant online loans, e-commerce financing and helps pay bills. The company has given out more than $120 million in loans and has gotten more than $155 million in cash. The group is one of the leaders in the online lending industry in many European nations, having done more than a million loan transactions in total.
Around 60% of Bitcoin (BTC-USD) wallets are long-time hodlers that keep their coins for 1+ years. Another 25% hodl their Bitcoins anywhere between one and 12 months. Nexo and BlockFi target these groups and offer them a way to use their asset without forgoing the price appreciation.
Bitcoin and other crypto hodlers, miners, hedge funds, crypto companies, and cryptocurrency exchanges are just part of the customer segment that Nexo is targeting. Another are the owners of Tokenized Assets who need liquidity and can provide their asset as collateral with Nexo.
Receiving 6-12% interest, depending on what kind of currency you're storing within Nexo, sounds really good. There are similar offerings on the market like BlockFi. What's the big difference? Nexo's own token very cleverly creates a utility for its Token on its platform to create value for the customer.
What's the NEXO token?
Nexo had announced on 12 January 2021, the interim results of its tokenomics overhaul, Nexonomics. Unveiled on October 28, 2020, the series of features for the native NEXO Token was designed to drive its utility, boost its value in the digital economy, and underpin its sustainable tokenomics model.
Within two months of Nexonomics' launch, the NEXO Token marked growth of 440% to achieve a new all-time high of $0.76. Increased desirability and demand for the company's token contributed to Nexo doubling its assets under management in the third quarter of 2020, to reach $4 billion in assets under management and over $5 billion processed.
Nexo Features
Although Nexo started operations in April 2018, it has proven that it knows what the average crypto trader wants. One of the selling points is the user interface of the app. The interface is easy for both beginners and experienced traders to use. The homepage informs visitors of the features and advantages of Nexo. It also has a chat box that users can use if they need assistance. 
The Nexo platform allows their customers to borrow cash (fiat currencies) or stable coins instantly, with 28 crypto coins available as collateral. Users can also earn daily on the platform. They can earn up to 20% annual interest with a daily payout.
Also, they have a card option, like a credit card, known as the Nexo card. It allows you to spend your digital assets' value without selling them. You can get the cards on the Nexo official websites.
In addition, when buying crypto assets on the Nexo platform, you can earn up to 0.5% cashback; the same thing goes for when you exchange crypto assets.
The Nexo token is the Nexo official crypto coin, and it "is the key to unlocking the full potential of Nexo." It can be said to be the most important feature of Nexo as all other features largely depend on the token.
How Nexo works
Nexo is the first developed instant crypto loan system in the world. They did this by merging instant loans with blockchain technology. Their business model was designed to accommodate flexibility and cost-efficiency in getting liquidity tied to the value of the client's digital assets.
Getting loans on Nexo is a simple and fast process that users can complete within a couple of minutes at no cost. There are no hidden fees of any kind. The use of blockchain technology further makes the whole program transparent as all smart contracts, and procedural algorithms are used in the Nexo Oracle module.
How the module work
The customer has to transfer their crypto assets to their Nexo wallet first. After the transfer has been confirmed, Nexo Oracle collates the details of the user's loan limits and sets up a loan for the user; this is done automatically. The customer is then awarded the loan in whatever currency they want. The user can get the loan through a bank transfer or the free Nexo credit card.
Note that the loan limit is directly proportional to the current market price of the crypto coin in the Nexo wallet. So, if the market value of the crypto coin were to rise, Nexo Oracle would raise the loan limit and vice versa.
When it comes to paying back the loan, customers can repay the loan in some ways; Bank transfer, exchange of funds using Fiat currencies or crypto assets, using the special discount gotten on the interest rate for paying with Nexo token.
Nexo Services and Products
There are a couple of products and services Nexo offer, and they are discussed below;
Nexo Exchange
Nexo exchange allows you to swap and trade crypto coins. There are currently over 175 market pairs that can be exchanged. And you have the opportunity to earn 0.5% in instant cashback.
Earn Crypto
Nexo platform has an Earn Interest service that allows you to earn up to 20% interest annually. You can deposit crypto coins or fiat currencies, and you are allowed to withdraw your interests daily.
Lending and Borrowing
Lending and borrowing were some of the pioneer services offered by Nexo. This service allows users to borrow fiat currencies using crypto coins as collateral. The amount you have in your wallet determines the value of what you can borrow at any given time. And the moment you borrow, your collateral is locked, meaning you cannot withdraw from it until you repay the loan. If you want to spend in the Nexo wallet, you have to re-deposit, and if you default on your loan or your funds drop to 0, Nexo automatically starts deducting from your locked collateral.
Note that you do not earn interest rates when you get a loan or use your funds as collateral. Again, users need to know that Nexo is one of the most secured crypto lending companies today.
Nexo's Oracle
Nexo's Oracle is at the core of this supply and demand scheme. It creates a real utility within its ecosystem with the NEXO token through its Loyalty Program.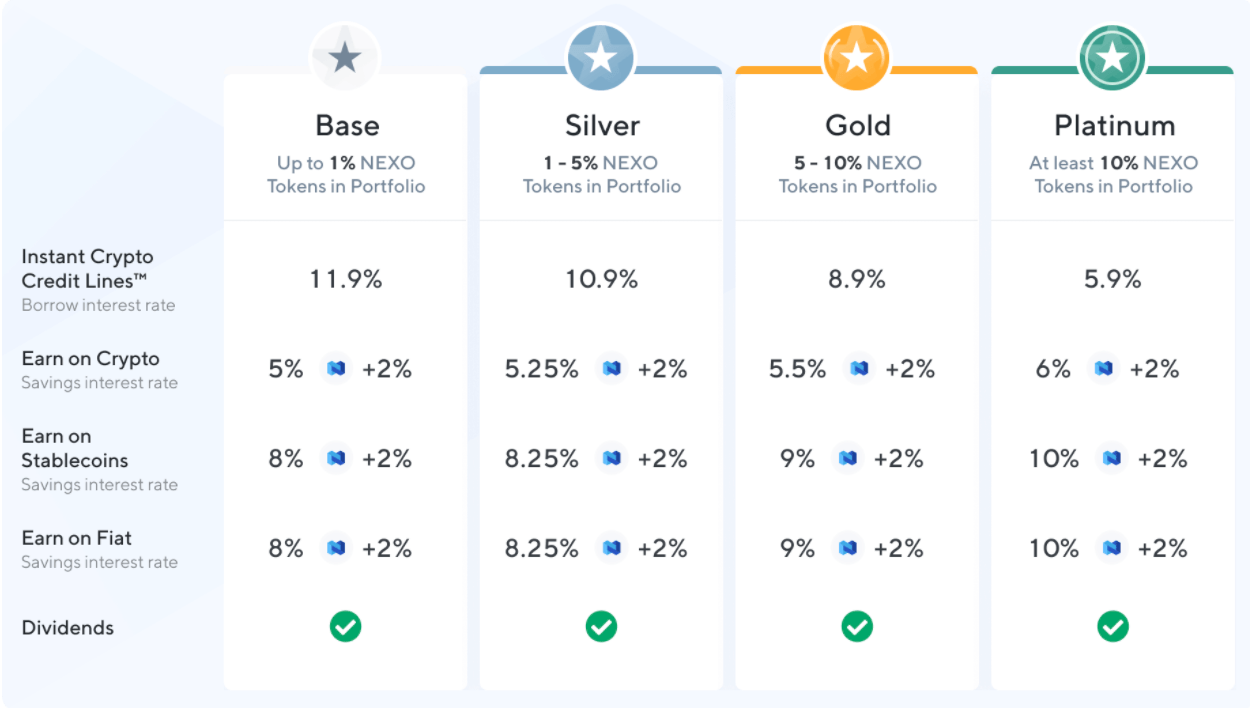 NFT Lending
The current trend is NFT, and Nexo has keyed into the trend to prove that they are one of the leading blockchain industries. With Nexo, users can buy and sell NFTs on the platform. 
Nexo's NFT allows creators and collectors to sell their artworks to other top collectors. Note that it is not beginner-friendly as Nexo does not accept NFTs worth less than $500. To apply to use the Nexo NFT marketplace, you take the following steps;
Click here
Once the web page loads, click apply now and fill out the application form
Source: NFT Application
If your application is successful, your account manager sends a message that informs you of a successful application
Read the terms of the agreement and sign the agreement.
Wait for a maximum of 2 working days to get your funds.
Buying and Selling Crypto Coins
The basic services Nexo provides the users are buying and selling crypto coins. Nexo has an earning campaign directly proportional to the number of crypto coins you buy. The more you buy, the more you earn. And you can always fund your wallet using a trusted wallet (like Trust wallet) and then swap on the crypto exchange. 
The above was just one of the three ways you can buy and sell in Nexo; other methods use credit cards or bank transfers.
Nexo Credit Card
Nexo and Crypto.com have been competing in the offer of credit card services, but Nexo has edged crypto.com out in that while crypto.com offers a debit card, Nexo offers a credit card. 
Nexo aims to emulate primary financial institutions, and to do that, they allowed their credit card to help users withdraw crypto coins on crypto ATMs and spend online. The cards will also enable users to buy and sell crypto coins on Nexo without the aid of third-party payment apps like Visa or Mastercard.
Nexo Token
The Nexo token powers the Nexo blockchain, with the token currently ranking in the top 100 crypto coins by Coin Market Cap. The coin rose to over $3 in 2021, but it is currently a little above $2. Although the coin has low value, the ongoing projects give the coin a high return potential.
Nexo Prime

Source: Nexo Prime
Nexo Prime is Nexo's broker; this is the service that the initiative renders. It acts as a broker and allows traders access to the crypto market. It also equips traders with the tools to successfully trade, predict the movement of crypto coins in the market, lend and invest in crypto.
Traders using Nexo prime are given account managers with funds remaining with Nexo. If you are skeptical, you don't need to be as there are over 35 licensing bodies monitoring operations performed by Nexo. Your funds are also secured with firms like BitGo, Bakkt, etc.
Nexo Wallet
Source: Nexo Wallet
Nexo platform has an official wallet that is safe, reliable, and fast. The wallet supports up to 23 Fiat currencies and 50 cryptocurrencies. You can sell 32 crypto coins on the Nexo wallet and buy 54 crypto coins on the wallet. Services offered by the wallet include;
The use of Nexo credit cards to pay for transactions. You get to earn while you are at it.
Nexo wallet also offers trading services, and you can regularly schedule transactions with your wallet and set up repetitive buy and sell orders.
The Wallet also offers exchange services. You can change one crypto coin for another, and you can also exchange fiat currency for crypto coins and vice versa. 
Nexo Pros and Cons
Nexo, like any other commodity, has a list of pros and cons, they are highlighted below;
Pros
Nexo has a high-yield savings account that allows you to earn up to 20% annual interest on crypto coins and fiat currencies.
The next comprehensive mobile app makes your coin management easy
Nexo is insured against losses, and the security features are advanced.
It has low trading fees.
Nexo is available in over 200 countries, including the U.S.
The platform is easy to use and access
The Nexo company is licensed and regulated
Cons
Nexo has fewer crypto assets than other competitors.
Subtle fees may apply.
How to create your Nexo account
To create or open your account, click on Nexo, and the moment the homepage is loaded, you will see a create account tab; click on it. You will be redirected to the account creation page (or you can click on the link embedded here and go to the account creation page directly). You will then enter your email and password and click the "Create Account" button when done. You are advised to select a strong password to help secure your account better. When your account is created, you will be asked to verify your email. You will then go to your mailbox and click the link sent to you by Nexo. Once you do that, you move on to the next phase (KYC).
Does Nexo require KYC?
Like every other financial institution (online or offline) required to know its customer, Nexo strictly follows the Know Your Customer (KYC) rule. The way Nexo is designed, you will be able to fund your account even if you have done the KYC verification. The platform is designed so that if you do not do your KYC verification, you won't be able to enjoy the investment benefits that come with the basic and advanced verifications, and your account won't be secure.
Email verification, aka starter verification, allows you only to deposit and buy/sell; when it comes to withdrawal, you can't withdraw more than $20,000 per day. With basic and advanced verifications, you enjoy other services like higher credit lines, deposits, withdrawals, bank transfers, etc. You can withdraw up to $2,000,000 per day.
To complete your basic verification:
Go to your profile by clicking the profile icon at the far right top corner of your screen and clicking "MyProfile."
Choose basic verification
Scroll down the page and fill out the form by providing your personal information.
The advanced verification needs your identity and proof of where you reside. The verification typically takes 5 business days, as Jumio Enterprises usually handle it. To complete your advanced verification, you must have completed your basic verification, then you scroll down and select "Start Advanced Verification." 
How to fund your Nexo account
Now that you have created your Nexo account and verified it, the next thing is to fund the account. Funding your account can be done using bank transfers, crypto coins, and credit cards, but it depends solely on your level of verification. Note that the same rate applies for any payment service you use except the Nexo credit card; it is free.
The minimum amount users can deposit is $10, and there is no maximum limit. You can always see your dealings in the transactions section if you want to know how you transact.
Using the Platform
The moment your account is funded, you can start using the product and services that come with the platform. The most prominent one is the Credit Line; this works exactly like the credit line you use in the bank. This line works like a saving system that allows you to withdraw when you wish. You can also spend and borrow using the credit line.
The credit line is where you deposit funds (crypto or Fiat) into your account, and the funds are displayed in USD. The line is what determines how much collateral you use to borrow cash. Note that the more money you put into your line, the higher your credit line becomes.
Deposit and Withdrawal
When you want to withdraw in Nexo, there are structured fees you will be required to pay depending on the amount you want to withdraw. However, you are allowed up to five free withdrawals in a month, depending on your level. Various levels are listed below;
The Base Level – To be a base level holder, you need to have at least 1% of Nexo tokens.
Silver level holders need to have at least 5% Nexo tokens
As a Gold level holder, you need to have between 5 and 10% Nexo coins in your wallet
Platinum level holders need to have at least 10% of Nexo tokens.
So, base-level holders have 1 free crypto withdrawal in a month, silver level holders have 2, Gold level holders have 3, and platinum level holders have 5.
Once you exceed your monthly free limit, your account is opened up for charges. The charges undulate depending on the network you are on. The range could be between $1 and $100 of the crypto asset you're withdrawing or depositing. 
A Nexo withdrawal system fault is that the platform alters your limit to add other network fees, which sometimes can be much.
Mobile Application
Nexo has mobile apps for iOS and Android phones like every other progressive blockchain platform. You can get them on your apple store and Playstore, respectively. The mobile app characteristics are similar to that of the web version, so it shouldn't take you long to get accustomed to it. 
Also, since Nexo does not work as a trading app, you can use the mobile app without going on your P.C. for technical analysis.
Supported Crypto Coins
As of writing this article, Nexo supports 30 crypto coins. Bitcoin, Ethereum, Ripple, Dogecoin, Litecoin, etc., are some of the coins your can swap with Nexo on the app.
Nexo Customer Support
The Nexo platform has no direct customer support, but they made up with it using things like a floating chatbot on the homepage. The chatbot allows users with complaints to send an email to the developers. They have to input their email address, type their complaints in the message box, and hit the send button.
Apart from the chatbox, users can also get help through the help center located at the top right corner of the homepage. Many information about Nexo and many frequently asked questions (FAQs) are answered.
Nexo Security
It is worth knowing that the security of customer accounts is the priority of Nexo; this is why the platform secures and ensures customer accounts. Apart from that, Nexo is regulated as a company and boasts of more than 35 operating licenses worldwide. Some include; 
U.S. Financial Crimes Enforcement Network (Fincen): Money Service Business Registration (Ref. No.: 31000201460825)
State Banking Department, Alabama: "Mini-Code" License (Ref. No.: 22897)
Affiliated Member of the Recognized Self-Regulatory Organization (SO-FIT), Geneva, Switzerland
Australian Securities and Investment Commission: Registration as Foreign Company (Ref. No. 647056540)
Apart from this, there are steps in place to ensure the safety of accounts and the funds in them;
Nexo sends an alert via email anytime you login or withdraw from your account. The I.P. address used to access the account is sent alongside the email; this makes it easy to track your funds in case of theft or hack.
Nexo has an anti-phishing procedure to help ensure you are on the correct website.
Nexo employs the help of Armanino to help audit their transactions.
Nexo has about $375 million in insurance from various hedge funds.
Nexo uses both Biometric identity verification and two-factor authentication to ensure it is you that is logging in.
Class III vaults are used to store user funds offline.
Is Nexo Safe?
The security procedures Nexo put in place secure its place as one of the safest crypto platforms. If these security measures are not updated regularly, they will be outdated soon because technology keeps improving and things keep evolving. 
To ensure that your funds are constantly safe, you should not be over-reliant on the platform. Yes, the Nexo platform will continue to do its best to keep your funds and user information safe. You should also do your part by securing your account with two-factor authentication and ensuring you are on the right platform every time.
Final words
Nexo is one of the best lending platforms around, and it is definitely worth giving a shot. This review shows that the company is trying its best to improve its services and provide more value to its users. Hodlers of crypto assets can continue holding their crypto and take a loan with their crypto as collateral, thus enjoying further price appreciation.
Nexo's differentiation factor is their own Nexo Token, which creates a real utility to buy and hold it. Nexo can only continue to improve their services, and if they do, the sky will be the limit.
FAQs about Nexo
Is Nexo legitimate?
Nexo is a licensed, reputable company regulated in about 200 nations and has insurance of up to $100 million against theft. Nexo appears to be legitimate.
How Do I make money on Nexo?
To make money on Nexo, all you have to do is complete your verification on the Nexo platform or Nexo app and buy/transfer crypto coins into your account. The moment you do that, you will start earning daily interest on whatever digital asset you have.
What is Nexo's use?
Nexo is used to collect crypto loans so that users can easily access cash and maintain the digital assets they own.
Has Nexo ever been hacked?
Nexo has never been hacked to date.
Can I use Nexo in the USA?
Nexo can be used wherever it is registered, USA included.
Who owns Nexo?
Antoni Trenchev co-founded Nexo, and he is the current managing partner.


[ad_2]